Moonlight Sonata: An Emotional Dance with Beethoven
Moonlight Sonata: An Emotional Dance with Beethoven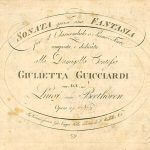 Technically known as Piano Sonata No. 14 in C# Minor, Beethoven's Moonlight Sonata is arguably one of the most beautiful pieces for piano ever written. It is actually interesting to mention that this piece was originally called sonata quasi una fantasia… which roughly translates to "sonata in the manner of a fantasy". It was not until the year 1834 when a poet would ascribe it the name that we have come to know and grown to love. Even those who are not fans of classical music are well aware of the opening melody that has come to define the first movement. And it is for this reason that many consider the piece to arguably represent the most well-known work created by such a prolific composer. As a pianist… I naturally wanted to capture the emotions that Beethoven must have been experiencing. However, I also desired to convey the sonorous beauty associated with this work for modern viewers and for my fans in general.
My Journey with Beethoven: From the Solemn to the Impetuous Storm
The first movement of Moonlight Sonata is dominated by a slow and almost yearning rhythm; as if Beethoven himself were in a state of lamentation. As I played this adagio sostenuto, I soon began to realise that there are some human emotions which are best put into musical form. There is simply no way that words could describe what can only be called a mournful state of beauty. As if I were walking with Beethoven himself underneath the pallid moonlight… I felt completely swept away in a sense of forlorn sorrow and yet, I could not help but to be captivated by this state of sublime rapture. These emotions would soon be replaced by a sense of personal transition which accompanied the second movement and finally, by the extremely turbulent nature associated with the third (presto agitato) section. I felt as if I were being swept off of my emotional feet into a state of ethereal agitation. There was a sense of tempestuous yearning and the frenetic tempo only served to heighten my senses until they hovered somewhere between uncertainty and magnificent bliss.
The Immortal and Emotional Nature of Moonlight Sonata
Immortal is arguably the best way to describe this piece, as its message has translated down through the generations. When I also considered the fact that Beethoven was in love with Giulietta Guicciardi (one of his students) at the time. The emotions saturated within Moonlight Sonata became clear. I imagined how he must have felt when his fingers were striking the keys much like my own; wondering if she would ever return his feelings. This was never meant to be and I can sometimes feel the lamentations of Beethoven himself echoing within the soundboard of the piano when I play. I imagine myself immersed within those very same emotions only to return to reality… with a sense of solemn beauty and once again, a restored passion for music in general.