Classical music NFTs


A ​unimaginable potential
Anastasia Huppmann is a multi-award-winning concert pianist, with a career spanning across the past 15 years. The Russian-born Austrian musician discovered her love for the art at just five years of age when she first started playing the piano and hasn't looked back since. However, her journey to the top was far from easy and came with a multitude of sacrifices. Be a part of her art with a

classical music NFT
About the artist
During the early years of her childhood,...
Anastasia's parents lost the majority of their savings and belongings in a terrible twist of fait, due of an investment-gone-wrong. Almost overnight, the Huppmann's were plunged into a world of financial insecurity and uncertainty, which was even more concerning seeing as they had a young Anastasia to support. Left with little to their name, Mr and Mrs Huppmann decided to sell the little they had and invest one more time, in the one thing they believed in more than anything on the planet… their daughter!
Every penny they could raise from working or selling went straight into Anastasia's music fund, paying for lessons, studies, equipment, and more.
They believed in her music and her talent from day one and, 15 years later, their investment is looking better than ever. Anastasia has now won more than 20 piano competitions, graduated from universities in three world-leading coutries for piano, released an impressive number of records for her young age, and composed work from the likes of Beethoven and Chopin.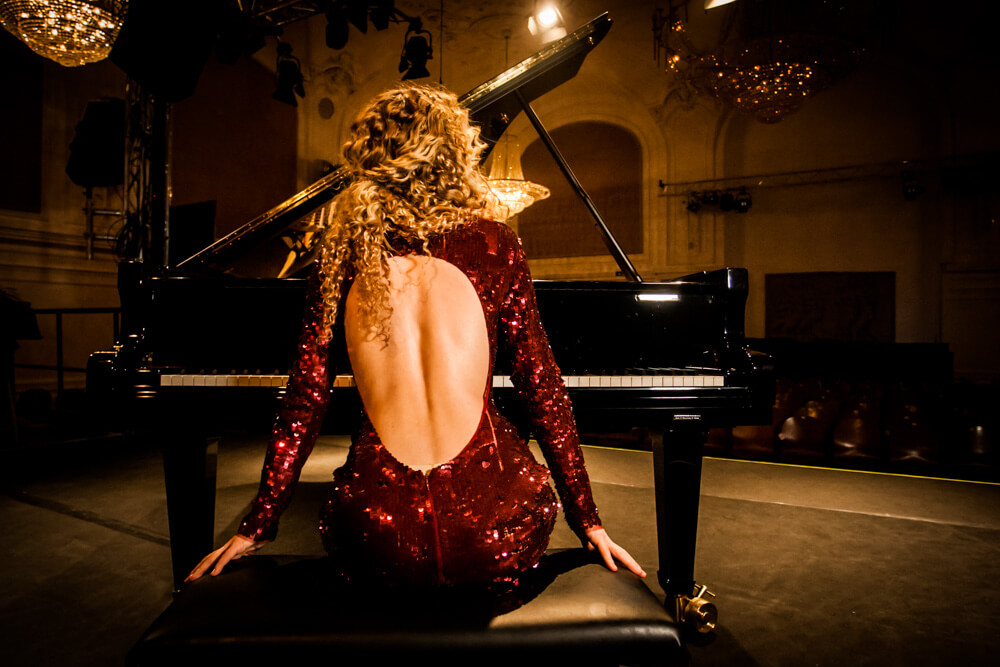 Anastasia has worked her way up the industry to emerge as one of the shining lights of the classical music' world.
Not only has she successfully published creative recordings of her extraordinary interpretations, but Anastasia has also reached the ears of so many members of the public who had not been familiar with classical music before. She has also set the world alight with a number of famous compositions from the most iconic composers – lending her own unique touch to already famous masterpieces. After her parents invested so heavily in her all those years ago, Anastasia has decided she wants to offer a similar investment to her followers, one that she hopes to see rise and rise into the future. To Anastasia, art has always been about helping others and conveying emotion that escapes words, and a value NFT investment is the logical next step on her path to achieving this.
Classical music NFTs are a completely untapped market with unimaginable potential considering the rise of the metaverse and the world's established love of music.
Anastasia will be releasing a series of audio NFTs based around her unique visions on classical music, starting with Feux d'artifice, which is originally by French composer Claude Debussy. However, this is just the start of Anastasia's journey into NFT investment, and there will be a number of further audio tokens released for your investment.
Anastasia Huppmann is excited to announce that her debut NFT will come in the form of a beautiful audio piece, uniquely performed by her own talented hands on the piano.
Phase 1 | 3x NFTs
RELEASE 10/26/22
Feux d'artifice, which translates to Firework, is originally by French musician Claude Debussy, with Anastasia composing this NFT piece from his original solo works.
RELEASE 11/16/22
Descriptin is coming soon
RELEASE 12/7/22
Descriptin is coming soon
Feux d'artifice
was published in Book II Number 12 from preludes by Claude Debussy. The composer, who lived from 1862 to 1918, wrote two sets of solo piano pieces, divided into two separate livres, or books, of twelve preludes each. Unlike previous prelude collections we have seen from the likes of Chopin and J.S. Bach, Debussy chose not to follow a strict pattern of key signatures. Each of Debussy's books was written at an outstandingly fast pace, completed in just a few months. Book one was started in December 1909 and completed by February of the following year, while book two began in early 1912 and finished in the April of 1913. Not only is Feux d'artifice a timeless classic by one of the most talented and famous composers of all time, but Anastasia has been able to haul it into the modern world with her own unique style. With that combination of Debussy composition and Huppmann genius, Feux d'artifice seemed the natural place to start Anastasia's NFT collection.
go to opensea
The concept is simple, you invest in an audio NFT of one of Anastasia's pieces, then watch the value climb as she continues her own rise to prominence.
After Anastasia's parents placed so much trust and love in her as a young child at the very beginning of her musical journey, she knows the true value of a great investment – and now she wants to share that with each and every one of you!
IT´s unique
An investment into classical art NFTs is unlike any other investment in the world – and unique investments are often the most exciting.
rise TOGETHER
An emerging artist is an incredible value investment opportunity because your money rises hand-in-hand with their fame.
upcoming market
Classical art NFTs are the latest cutting-edge value investment opportunities, so come and get on board at the ground floor.
invest into art
The earlier you invest in an emerging artist, the more you stand to gain when they make huge strides in the industry.